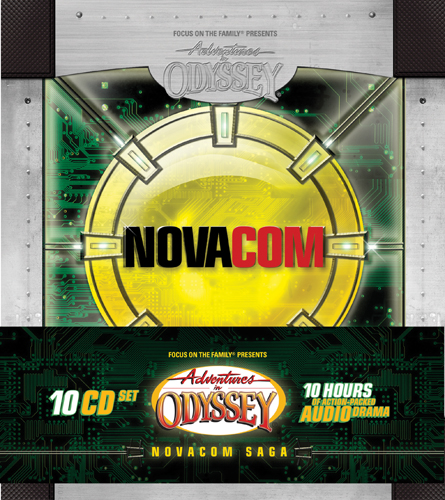 On July 6th 2002, Adventures in Odyssey came to the end of an era. An episode aired that would conclude one of the greatest adventures the show has ever had. That episode was "Exit".
The Novacom Saga arrived when the show was in deep trouble. After the arrival of the unpopular Mulligan family, a divisive response to the Shepherd family, the awkwardness of having a new Whit (played by Paul Herlinger) and two critically-panned albums, "Virtual Realities" and "In Your Wildest Dreams", the Novacom Saga shaped and added purpose to the series. It even managed to go back and make its preceding albums, such as "Days to Remember" and "Through Thick and Thin", become widely seen as classics.
Believe it or not, that was ten years ago...
I know we just celebrated a 25th anniversary, but I think it's about time we celebrate a 10th anniversary, as well. The Novacom Saga was really responsible for turning the show around in a big way, and even, I think, single-handedly alluring people online to create the huge internet fan-base that we know today.
A lot of older fans seem to skip over the past ten years when it comes to talking about their all time favourite episodes, but I think it's about time we gave this past decade its due. So what were your favourite episodes since the Novacom Saga? And, in your opinion, has the past ten years the best decade of Adventures in Odyssey, or the worst? Or, neither?
The following is a list of my top ten favourite episodes from the past ten years (
in no particular order!
).
1. (TIE)
The Green Ring Conspiracy
- In 2011, I wrote that this episode "is a taut, engaging, and refreshingly complex audio-dramatization. The story drops us into a world that is always spiralling out of control; a world with seemingly more questions than answers; one in which the more answers given, the less we, and its characters, seem to know." Like Novacom before it, this saga managed to make us care more about characters we really didn't know much about. Simply put, it was a unique and interesting story that built towards an exciting conclusion. Written by Paul McCusker.
1. (TIE)
Silent Night/ A Lamb's Tale
- Although these are no Barclay Christmas episodes, the past decade provided us with two very strong episodes that celebrated the holidays. I remember thinking that Silent Night did more for Paul Herlinger's Whit than any episode since "Clara". It reminded us that there were still interesting aspects of Whit's character out there yet to be discovered. As for "A Lamb's Tale", it was probably one of the most emotionally moving Adventures in Odyssey episode this past decade, providing interlocking stories that made us cry with every scene. Written, respectively, by John Fornof and Marshall Younger.
2.
Two Friends and a Truck
- Aside from being the last episode showcasing Will Ryan and Dave Madden's fantastic chemistry (although they both appear in "The Forgotten Deed" later on), this episode shows us how such a simple premise can build towards interesting conflict. This was quintessential Odyssey and, if I remember correctly, was regarded as an instant classic when it aired. Written by Nathan Hoobler.
3.
Do or Diet
- This will forever remain one of the greatest comedies Adventures in Odyssey has ever produced due to its sheer originality and how it managed to capture the quirkiness and weaknesses of our favourite characters. If the idea of Whit, Bernard and Wooton dieting together was not as funny back then, it definitely is today. This remains one of Kathy Buchanan's finest shows, and, along with "Secrets", proved that there was a place on the show for her distinguishing style. Written by Kathy Buchanan.
4.
The Pact 1, 2
- Believe it or not, there was a point on Adventures in Odyssey where not every surprise or "reveal" turned out to be that the "mysterious someone" was actually someone we already knew who lived across the street in Odyssey. But "The Pact", at the time, was utterly original and had an ending no one saw coming. This remains one of the coolest mysteries of all time while shedding some much needed light on Tom Riley's history. Written by Nathan Hoobler.
5.
Prisoners of Fear 1, 2, 3- Unlike "The Pact", the events in "Prisoners of Fear" kick-started a long saga involving Eugene's search for his father. Although such a discovery doesn't make an ounce of difference to today's listeners (since we haven't heard a thing about his brother and father in a while), it was, in itself, remarkably exciting and well put together. This episode also features one of the greatest climaxes in Adventures in Odyssey, when Gobir is forced to save his son's life on the bridge by admitting his lies. Written by Marshall Younger.
6. Living in The Gray 1, 2 - Although having an old Adventures in Odyssey character return from that "dark, hall" isn't as thrilling as it was back then (Monty Whittaker, Dale Jacobs), hearing from Jimmy Barclay after such a long time was certainly a treat when the episode first aired. The episode stayed true to Jimmy's character while teaching an important lesson--that even characters who have been brought up in Christ their whole lives can leave the "straight and narrow" when they're older. Written by Marshall Younger.
7.
Here Today, Gone Tomorrow 1, 2, 3
- Although the ending
--Mitch waving his hand out of the tail-light of his car--
was somewhat anticlimactic, the entire episode has a well-constructed and quite thrilling. It managed to be yet another story about hacking, but did it in its original way that didn't feel too familiar. It also perfectly balanced Connie's storyline with Whit and Mitch's "Batman and Robin" adventure. And when you hear from Bennett Charles again, how can you go wrong? Written by Kathy Buchanan.
8.
The Taming of the Two -
A perfect example of how an episode can succeed based on a perfectly-cast guest star (James Bray as Malcom Lear). There's also some awfully good writing here and a great performance by Earl Boen, too. We also see the only glimpse of the Xavier Washington and Nick Mulligan friendship, which was probably one of the first interesting young adult friendship to come along on the show in a long time. Alas, nothing came of it. Written by Nathan Hoobler.
9.
A Most Intriguing Question -
Here is an episode where the answer was as exciting as the question. Discovering Eugene had returned to Odyssey was certainly wonderful, even though the bit about Eugene's amnesia felt a bit cliched. However, due to the sheer hype surrounding the episode, through online clues and fan speculation, as well as the overall tone of the show, this remains a great example of how to re-introduce an old, fan-favourite character. Written by Paul McCusker.
10.
The Highest Stakes 1, 2 -
My favourite part of "The Highest Stakes" is when Whit confronts Carson McKay, helping him to pay off his debts and ordering him to seek help for his addiction. Sometimes it's the little moments that make you love an episode. Like "Life in the Third person", this episode portrayed a touchy, real problem that some families have to deal with, but it did so in but exciting, realistic, way. Written by Nathan Hoobler and Marshall Younger.
Runners up: To Mend or Repair, How to Sink a Sub, No Way Out, The Girl in the Sink, The Owlnapping, The Forgotten Deed, The Triangled Web, Rights Wrongs and Winners, A New Era 123, Life in the Third Person, Always, Sunday Morning Scramble
So, readers, what are your favourite Adventures in Odyssey episodes since Novacom? Are my picks way off? What am I forgetting? Tell me in the comment section below.